Things move fast at Authentic8, most of the time. And if they don't? That's when leaders shine as enablers and get things back on track. Meet Kevin Lund, Chief Technology Officer and self-proclaimed "Turtle Flipper in Chief."
Are you familiar with Joel Beasley's Modern CTO podcast, "where CTOs hang out" (tagline)? Don't miss episode 206, where Authentic8 CTO Kevin Lund intimates much more than how and why he set out with Authentic8's founding team to Make Browsing Safe & Secure.
And what a winding road it was... - more in this podcast. Expect a treat, a real conversation about life, learning, and what makes technologists tick.
If all you're interested in Kevin's explanation of web isolation with Silo for Safe Access, in a nutshell, check out this short clip on LinkedIn. There's a lot more to this chat, though, so don't miss out on it.
Watching the whole interview will be worthwhile, especially if you're an engineer interested in joining our team, because it provides a unique peek into Authentic8's background and diverse culture.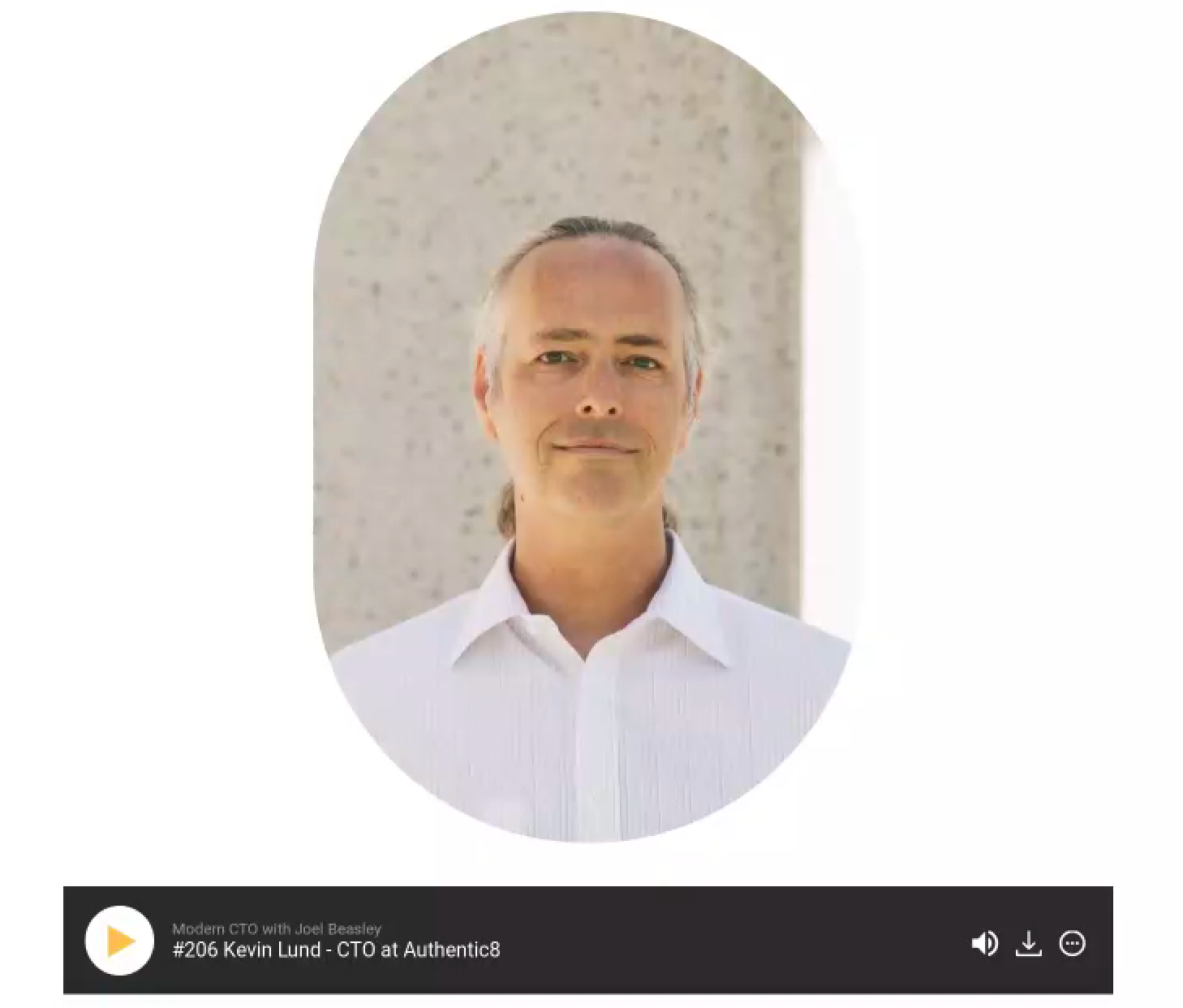 Take Kevin's background, for example. His professional path took him from computational psycholinguistics (the science of how the brain processes language and how to use computers to better understand that process) to his role as "anti­-spam guy", and, subsequently, Principal Architect, at Postini, the email spam filtering pioneer.
The startup was acquired by Google in 2007, and Postini founder Scott Petry later went on to become Authentic8's Co-Founder and CEO (more on the story in this interview on Leo Laporte's Twit.tv).
What about the turtles?
In his conversation with Joel Beasly, Kevin covers a lot of ground, including the daily demands of the Chief Technology Officer role. He transitioned into his executive position recently, from a more engineering-­centric role.
Now, much of his day is consumed by "keeping an eye on things, and what I call 'turning over turtles,'" says the Authentic8's CTO. "Inevitably, with a bunch of turtles, some are going to wind up on their back, and you go over and you turn them back over, and get things going again."
Authentic8's customer retention rate of more than 97% is a good indication that when turtles need flipping at Authentic8, Kevin gets them flipped fast. For the details - and some good chuckles - we recommend listening to the full conversation