Don't put your analysts and resources at risk.
You need a tool that never exposes you or your intent. OSINT, threat intel, law enforcement, financial fraud, cyber security and other researchers trust Silo Research Toolbox. Silo Research Toolbox is built on a remote, isolated browser that lets teams conduct secure, misattributed, geographically distributed data analysis and collections across the clear, deep and dark web.
Protect your team under adverse conditions and make critical web research more efficient.
Protects the mission
Safely access websites from IP addresses at locations you choose, worldwide. Collect data without exposure to exploits or revealing your real identity.
Manages attribution
Combining remote browser isolation with managed attribution is key to both OPSEC and optimal research results. Empower your team to conduct research on the public internet and the dark web.
Secures collaboration
Research requires numerous tools and techniques at every layer of the solution. Without the Silo Research Toolbox platform, multi-vendor stacks leave gaps which can lead to exploits.
Silo Research Toolbox provides multiple layers of protection on the web and prevents exposure of open source intelligence gathering and dark web investigations.
Capture, annotate and store
Capture, annotate, store and share web research content without breaching your environment.
Browser fingerprint control
Make adversaries see what you want them to see with fine-grained browser fingerprint control.
Client-side translation tools
Removes language barriers for OSINT analysts and keeps language settings off the web.
Geographical coverage
Exit nodes operating across more than a dozen data centers around the world.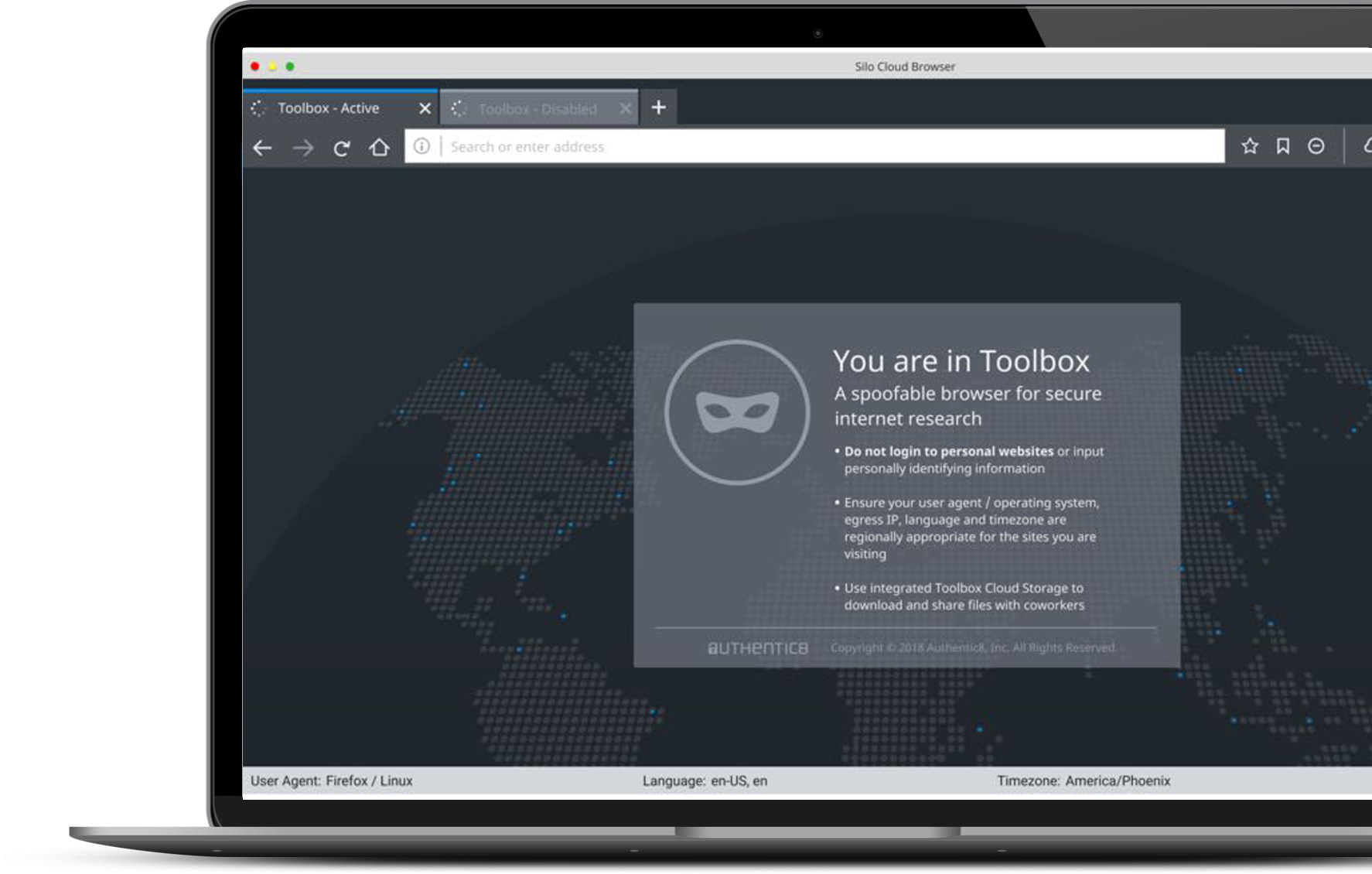 Trusted by the pros
Because of its versatility, analysts, investigators and security researchers across a wide variety of sectors and industries already deploy Silo Research Toolbox for extra security and flexibility in:
• Fraud and anti-money laundering investigations in the banking and financial services industry
• Criminal and forensic investigations
• Federal, state and local law enforcement
• Federal government agencies and departments
• On-the-ground (cross-border) risk analysis in corporate security, risk management and consulting firms
• Red teams, threat hunting and IT security
• OSINT research