July 08, 2019
Covert Online Investigation Tools: How Yesterday's DIY Is Today's Negative ROI
Posted by Claudia Berth, Authentic8 Team
Security Officers, are your online researchers still relying on custom-made covert investigation solutions cobbled together from disparate tools to save money? New research proves that the opposite is happening: It costs you extra.
A few years ago, providing research teams with out-of-the-box capabilities to perform anonymous online research was crazy expensive. The task of enabling cyber threat hunting, without the risk of crippling the network, for example, needed a separate six-figure line item on the IT budget. It's no wonder that there are so many organizations that rely on a patchwork of make-do and DIY tools and methods.
Today though, the DIY approach to enabling sensitive research on the open, deep, or dark web is unnecessary, as well as out of sync with the demands of our rapidly changing internet threatscape.
A new comparative analysis by Authentic8 shows how DIY costs leaps and bounds more money than the new, low maintenance, SaaS alternative available today.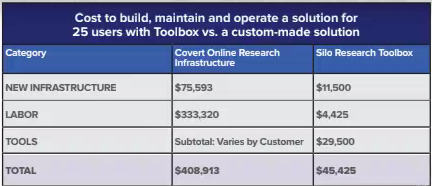 In a mid-sized team with 25 researchers or analysts, a covert online research infrastructure cobbled together from off-the-shelf and open source components can cost up to ten times as much per year than Silo Research Toolbox.
SOCSs, FIUs, law enforcement, or risk consulting teams that deploy Silo Research Toolbox for covert online research save on average 89% annually over those who built, maintained, and operated a custom-made solution. That's the main takeaway from our new whitepaper Economics of Silo Research Toolbox, an itemized comparison of initial investments, labor, and essential tool costs.
Covert Online Research Cost Creep, Reversed.
The cost creep we found is often caused by patchworks of off-the-shelf tools and hand-baked managed attribution tools that once started as low-budget improvisations. Before long, steeper bills become due.
For a team of 25 researchers, DIY-ing a covert research solution for the clear, deep, and dark web will cost organizations roundabout $ 410,000 per year. Silo Research Toolbox by Authentic8, which develops, operates and supports this solution for hundreds of organizations, is shrinking this IT budget item to less than $ 46,000 p.a. while effectively eliminating all mission-related web risks.
Authentic8 customers realize these significant savings because with Silo Research Toolbox, they can shed most of the labor required to support their research infrastructure and all of their associated endpoint and network hard costs.
Two examples: With the DIY approach, almost 40% of the covert online research
budget - $ 160,000 - goes towards managing dirty networks and egress nodes, plus covering tech support and escalation labor costs.
In comparison, for 25 researchers, the maximum total - optional - support spend with Silo Research Toolbox amounts to roughly $ 4,500 for 25 Premium Escalation Support subscriptions (optional) for the Toolbox Dark Web edition (optional).
The second-largest cost item for (former) Do-It-Yourselfers is (was) Incident Response. It's been calculated at $ 75,000 annually per 25 online investigators and researchers.
In comparison, Silo Research Toolbox deploys offsite and enables researchers to remotely access and analyze web resources and files without ever exposing their endpoint or network. Because it prevents any web-borne exploits from touching the local infrastructure, it categorically brings down this amount to $ 0.
How Enterprise Customers Cut Cost with Silo Research Toolbox
What's the exact basis for our calculation? To find out more about Silo Research Toolbox and how we arrived at these numbers, contact us here.
We will send you the whitepaper, which justifies each item in the table with detailed documentation in the appendix. Learn how Silo Research Toolbox will help your organization eliminate ineffective and inefficient spend.
Claudia Berth - Claudia is the Director of Product Marketing at Authentic8. She holds an MBA and Cybersecurity Strategy Certification from Georgetown University.
Topics

Explore the Resource Center
Everything you ever wanted to know about how Silo can give you control.
Learn more